Description
Function
---
It is especially developed for the Fuji X lens .In addition for macro photo shooting, it is Auto Focus . 
Support camera' TTL features and AE mode. In most of case, only one tube is enough to achieve 
macro effect with excellent photo effect.
Featrue
---
*   Can be used alone or combined,which can achieve 3 different kind of magnification and work 
    perfectly with camera's auto focus.
*   Pure cupper pin,perfect match.Metal interface,AF,better transmission                               
*   Can be used alone or combined,perfectly with camera's auto focus.               
Specification
---
| | |
| --- | --- |
|  Type |  VILTROX  |
|  Model |  DG-NEX Automatic Extension Tube Set |
|  Weight |  110g |
|  Dimensions (W×H×D) |  85×85×60mm |
|  Size |  10mm,16mm |
|  Material |  Quality plastics |
|  Compatible camera |  Fujifilm FX X-E1 X-E2  X-Pro1, X-A1   X-M1 mirrorless camera series |
|  Compatible lens |  Fujifilm  X-mount Lens |
|  Included Items |  Extension Tube *1, Manual *1 |
Pictrue
---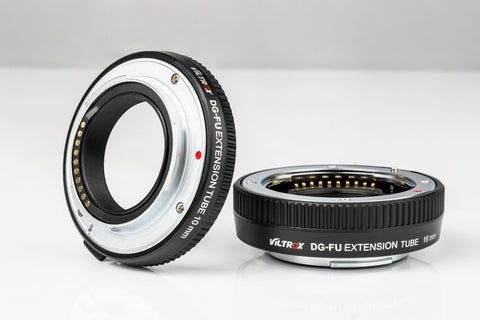 (10+16) One set of auto extenstion tube is composed by 2 different ring,
 can be used alone or combined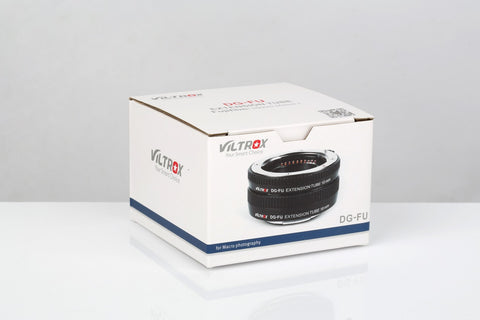 It can auto focus and compatible with camera TTL, AE mode. The mount adopt high strength aluminium alloy.
Payment & Security
Viltrox DG-FU Automnsion Tube Set Fujifilm mirrorless caatic Extemera
Non eccelsa costruzione ma fanno a dovere il loro lavoro. Mi sarebbe piaciuto avere un foglietto con i fattori di ingrandimento con le batterie ottiche Viltrox. Io li usi con il 56 F1,4.