Description
【400/1200 Nits High Brightness High Definition】:With 400/1200 Nits high-brightness display screen, not afraid of bright light, high-definition monitoring. With a resolution of 1920×1080 pixels, 1200:1 contrast, and 178°ultra-wide angle design, creators can enjoy high-definition image quality when monitoring from different angles.
【Full HD Resolution, Reveals True Beauty】:1920*1080 high-definition resolution, every color can be delicately and accurately restored, high-definition monitoring, capturing details, and showing the real beauty.
【178° Ultra-wide Viewing Angle】: The 178° ultra-wide-angle design is convenient for creators to enjoy clear picture quality when monitoring from different angles
【Professional Monitoring Software】:DC-550 series has rich monitoring functions, imports 3D LUT through the SD card, and helps the photographer achieve a variety of creative effects in the post-editing. In addition, it also has a Parade waveform, vector graph, brightness histogram, auxiliary focus, audio column, image flip, false color, etc.
【Custom 3D LUTS】: Import 3D LUT through an SD card, which is convenient for customers to use any camera Log mode to shoot and monitor, and it is also convenient to achieve a variety of creative styles in post-production.
【Image Zoom Function】: Touch screen mode: Support double-finger touch screen to drag the screen to view any point details. Button mode: Physical buttons to control image size.
【Settings and Touch Screen】: DC-550 Pro is a touch screen version, which covers touch screen & button settings; DC-550 is a non-touchscreen version, that only supports button settings.
【Professional Color Adjustment True Color Rendering】:In accordance with the REC.709 international color standard, the Viltrox DC-550 series has the built-in 3D LUT precise color reproduction without distortion or color cast, making the visual experience more natural and real than the original camera screen.
Product Specifications
Model

  DC-550

DC-550

 

Pro

DC-550 Lite

Screen display

LED screen

5.5-inch

Resolution

1920X1080 pixels

Brightness

1200cd/m²         1200cd/m²         400cd/m²      

Input signal


interface

HDMI1.4 signal input

Output signal


interface

HDMI1.4 signal output

Audio

Headphone jackφ3.5

Firmware upgrade

SD card upgrade

Power interface

DC12V-18V=2A、Type-C interface≥5V=3A

Applicable battery

NP-F550/F570/F750/F770/F960/F970

Working


environment

Operating


temperature

+0 to+40°C(+32 to+104°F)

Storage


temperature

-20 to+60°C(-4 to+140°F)

Dimensions

≈165X91X28.5mm

Weight

≈280g                        ≈280g                              ≈267g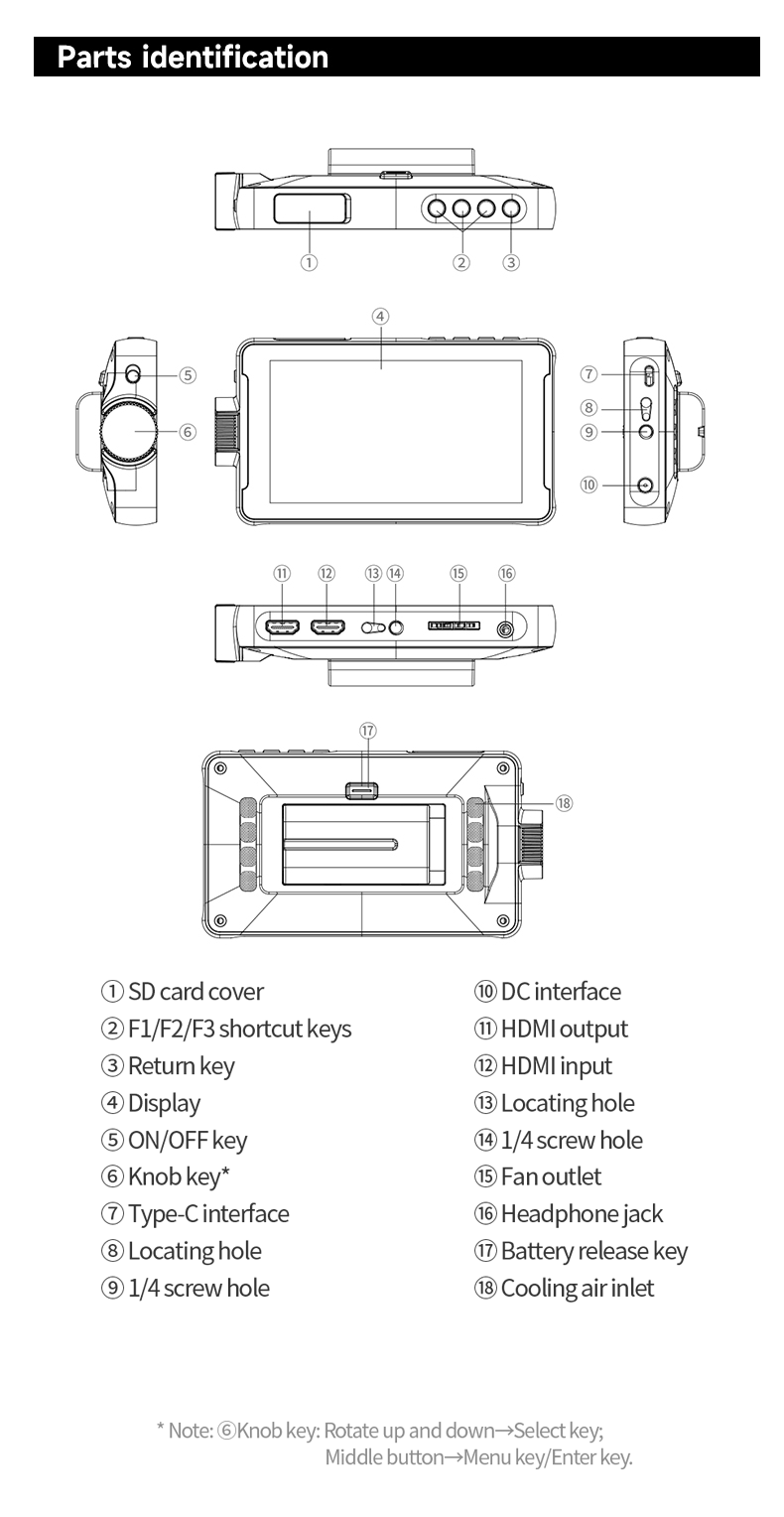 Product Video
FAQs
Q1: Do the monitors support 3D Luts loop out?
A: NO, they don't.
Q2: Can the touchscreen function of DC-550Pro be turned off?
A: YES. Just long-press the knob button to switch between the" on" and "off" of the touchscreen.
Q3: Do the monitors support audio monitoring?
A: YES. There is a 3.5 mm headphone jack.
Q4: Can we use an SD card on the SD card slot for recording?
A: NO. The monitor does not support the recording function and the SD card slot is only for 3D Luts and firmware updates.
Payment & Security
Crazy quality for the price
Even have auto screen rotation, usb c chargeable battery
amazing value
the monitor just blows out of the water every other budget friendly piece of gear I used. Touchscreen works amazing, I just wish they just get rid of the unnecessary knob - it's not a good way to operate in such complex menu system. Other than that, works like a charm, value/money is A+
it's a great monitor, great value for the money, but i can't load my LUTs into it.
its look like software bug, since the monitor do read the Luts from my sdcard. it just shows the color incorrectly. I wish there were any information which kind of Lut the monitor accepts. maybe future firmware update will fix it.
It took a long time.
I'm happy that after three months, I finally got my monitor. Everything was in order. The one thing I would suggest is that Viltrox include a full HDMI cable. Many cameras these days have full HDMI ports. I had to order one.
It's been four days not fourteen and there was no HDMI to HDMI included so I have yet to try it but everything looks good so far