Roll over image to zoom in
Description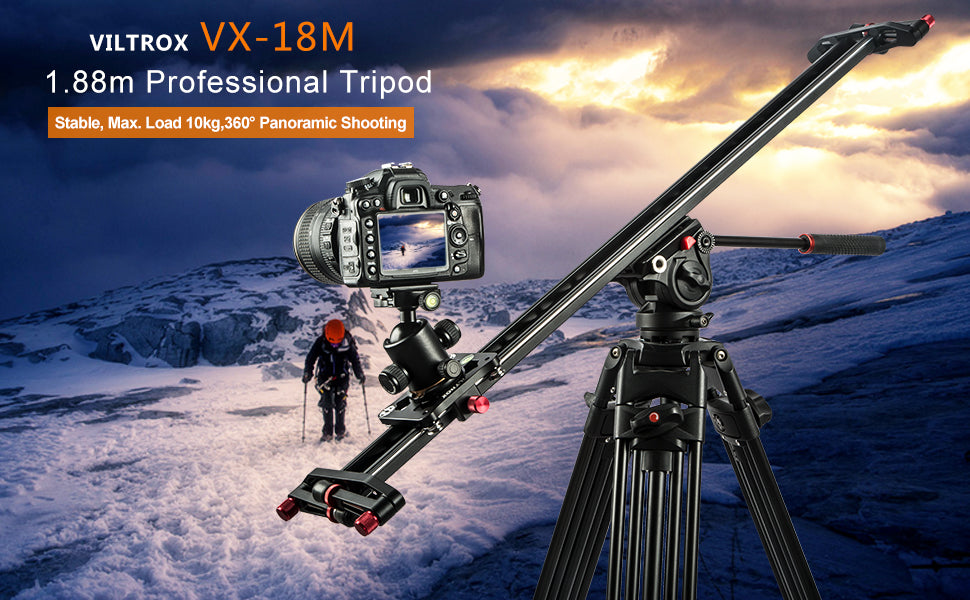 This combination includes VT-01 fluid ball head and VX-18M tripod legs.
--Q5 fluid head weighs only 1.8 lbs and supports up to 13.2 lbs. Smooth movements combined with an advanced balancing system, 360°horizontally and +90°/-75° vertically.
--VX-18M professional tripod designed with 3-section aluminum legs combines stability and strength with affordability. The mid-level spreaders keep the legs from collapsing on uneven ground and add stability with rubber mats.
The tripod kit comes with a carry bag for easy transport.
Features:
1. Versatile -75°to +90°tilt range, 360°pan range
2. Includes separate locks for pan and tilt functions, a built-in bubble level indicator, which helps in aligning the horizon line and a gear driven center column
3. The sliding quick release plate with a standard 1/4"-20 mounting screw on the top, and a spare 3/8" screw included
4. Interchangeable pan bar handle, with angular adjustment, fits on both left and right of head for convenient user control
5. Three-section design allows you to adjust the height of the tripod from 33" to 74"
 




VILTROX VX-18M heavy duty tripod

 


Leg Material: Aluminum

Sections: 3

Min. Operating Height: 33" / 845mm

Folded Length: 35.4"/900mm

Net Weight: 9 lbs / 4.07kg
VT-01 Fluid Head 


Quick Release Plate: Yes, with a 1/4" screw and one spare 3/8" screw

Tilt range: -75° to +90°

Pan range: 360°

Friction Control: Fixed

Tilt Lock: Yes

Pan Lock: Yes

Pan Handle: Yes

 

           ​

quick release plate

Fast switching between different devices without replacing the quick release assembly.

pan bar handle

The pan bar handle can be used both left and right of head for needed. it is separated in zipper pouch on the inside .

Diameter (bowl):2.36" / 60mm

60mm base plate under the fluid damping head screwing with 3/8 screw, and match with the 60mm ball box,locking the lock bulb .

The mid-level spreader helps prevent instability that a ground-level spreader can introduce when working on uneven surfaces.

Horseshoe Shaped foot pad,Flexible non-slip rubber outsole is durable and textured for sure shooting with each step.

Package Includes:

1 x VX-18M aluminum tripod

1 x VT-01 fluid head

4 x hex keys

1 x carrying bag

(Pan handle is inside the inner pocket of the carrying bag)
Viltrox VX-18M 74" inch Heavy-Duty Video Tripod with VT-01 Fluid Head
Viltrox VX-18M 74"
Very good for this price and with no shipping cost for Greece, no taxes and fast shipping.
Delivery operative, Courier. The tripods are really very high, the heads smoothly pan and horizontally and Verily, maybe a little tight horizontal and it is not adjustable. There are small problems with coloring and small scratches, but these are small things, and the price was excellent. I'm happy with the purchase, I recommend the seller.
Brought for 5. days later. rasioen as needed on shooting
The tripod is good, for your money the most it! Got there quickly! Thank you!
Payment & Security
Your payment information is processed securely. We do not store credit card details nor have access to your credit card information.